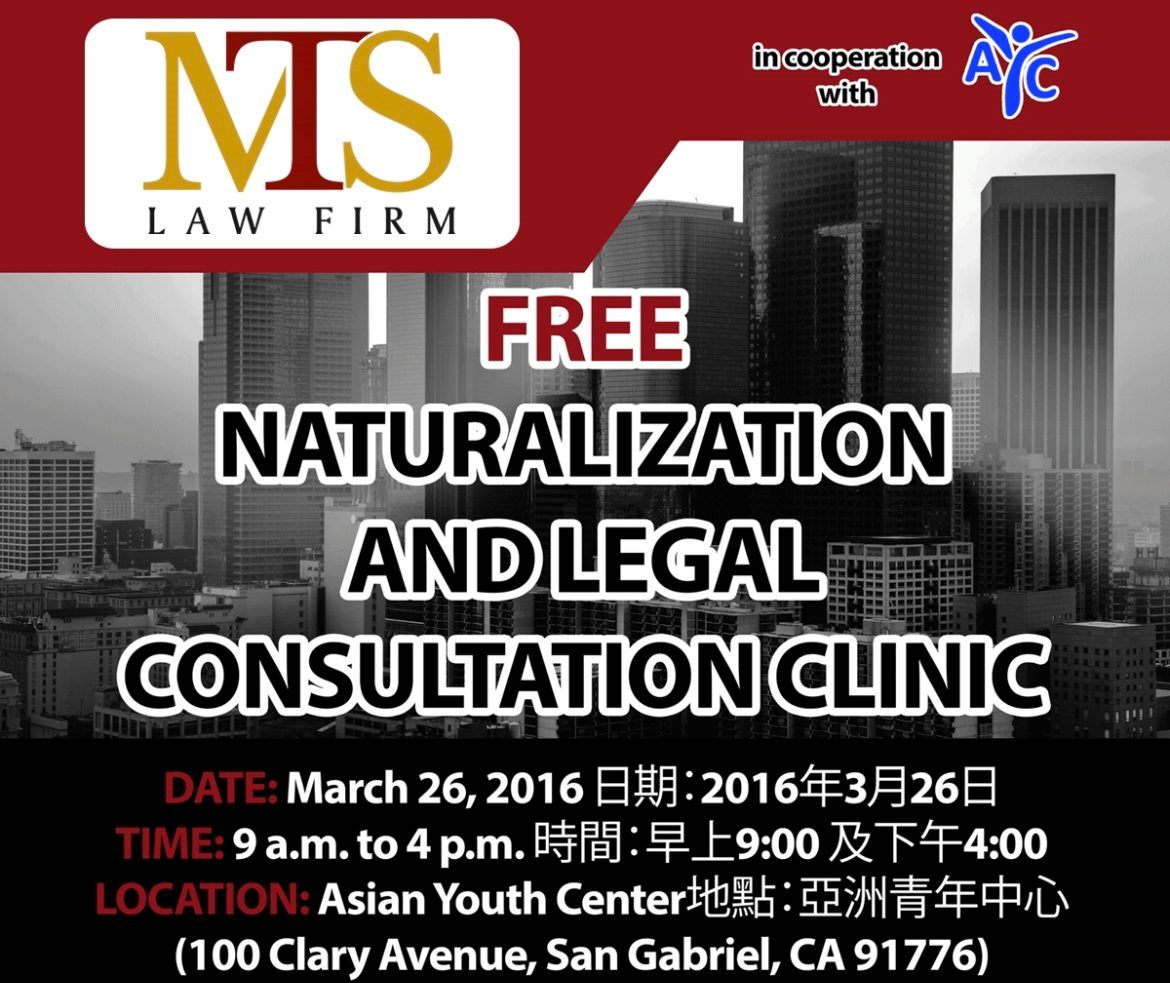 MTS Law, in collaboration with Asian Youth Center, will be holding a free citizenship workshop and legal clinic on March 26, 2016. The clinic will be from 9:00 a.m. to 4:00 p.m., at Asian Youth Center, 100 Clary Avenue, San Gabriel, CA 91776.
This project is MTS Law's second annual free legal clinic, a public service program that it started in 2015. With the elections coming up this year, MTS Law decided to expand the scope of the legal clinic. As an added service, the clinic will not be limited to free legal consultation as in the previous year, but will also help qualified lawful permanent residents (also known as green card holders) apply for citizenship.
Citizenship confers certain rights not available to green card holders, including the right to vote for U.S. President and federal officials, apply for certain federal government jobs, run for an elective federal office, and apply for a U.S. passport. To be eligible to naturalize, the applicant must be at least 18 years old, have been a lawful permanent resident for at least 5 years (3 years if married to a U.S. citizen for at least 3 years), and establish good moral character, among other requirements.
The clinic will start with a 30-minute introduction to the basic requirements and procedure to apply for naturalization, to be conducted in Chinese language by Atty. Angela Leong. It will then be followed by in-person assistance with preparation of N-400 application for naturalization and related documents, including fee waiver application. There will also be licensed attorneys to provide one-on-one legal consultation on issues relating to immigration, family relations, personal injury, and employment.
Seats are limited, so interested participants are encouraged to register in advance. To register, please call (213) 232-3154 (English, Tagalog & Spanish) or (626) 800-6019 (Chinese) or email info@mtsangalaw.com. Reservation can also be made online through our website at http://www.mtsangalaw.com/events.html.