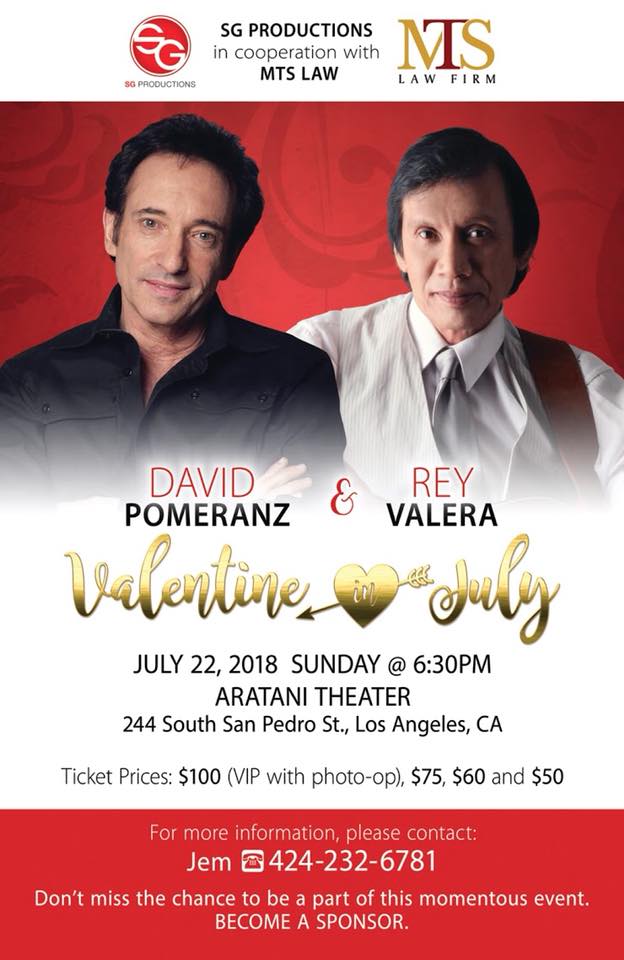 MTS Law is a proud sponsor of Valentine in July, a rare tandem performance of two of the top songwriters of all time. Watch David Pomeranz and Rey Valera perform their timeless love songs live on July 22, 2018, 6:30 pm, at Aratani Theater, 244 South San Pedro Street, Los Angeles (Little Tokyo), CA .
David Pomeranz is an American singer-songwriter best known for his hit songs "Got to Believe in Magic," "King and Queen of Hearts," "Born for You," "Tell Me," "If You Walked Away," "The Old Songs," and many more. He has written songs for some of the most renowned American singers and many of his songs have been featured in major films and other productions in the U.S. and abroad.
Rey Valera is one of most respected and awarded Filipino singer-songwriters. His greatest hits, many of which are now considered classic OPM songs, include "Pangako," "Maging Sino Ka Man," "Tayong Dalawa," "Kung Kailangan Mo Ako," "Kung Maputi na ang Buhok Ko," "Sinasamba Kita," and many more. Like David Pomeranz, his songs have been performed by some of the biggest artists in the Philippines and have been featured as theme songs in various major films and other productions in the country.
MTS Law supports artists with extraordinary abilities in their field. We have sponsored several productions featuring Filipino artists. We have also successfully represented various artists and producers in their O-1, P-1 and EB-1 visa petitions.
For ticket and sponsorship inquiries, please contact SG Productions (Jem Aguirre/SJ Gandia) at 424-232-6781.