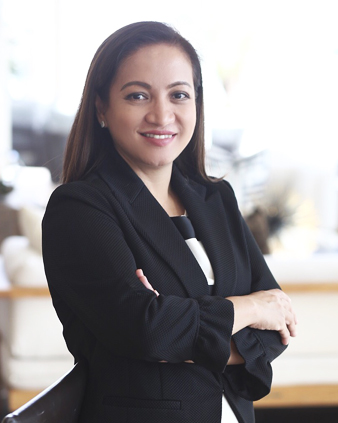 Atty. Mary Lyn T. Sanga
Immigration
If there is one thing one must understand to succeed, Atty. Mary Lyn T. Sanga believes it is the value of hard work.
Atty. Sanga received her Bachelor of Laws degree in April 2000 from the University of the Philippines. She attended the University's evening program for working students while employed as a full-time systems analyst at a leading commercial bank. She passed the bar on her first try and was admitted to practice in May 2001.
Atty. Sanga joined Follosco Morallos & Herce as an Associate Lawyer in October 2000. During her stint with the firm, she developed a well-rounded practice in business-related areas encompassing corporation, tax consultancy and appellate tax litigation, labor standards and relations, domestic and foreign investments, and contracts. Atty. Sanga left her position as Senior Associate Lawyer in the firm in February 2006 to migrate to the U.S.
In May 2008, Atty. Sanga was admitted to practice law in California after passing the bar on her first try. She worked as an Associate Lawyer and later on as a partner at Bander Law Firm, LLP until January 2010, practicing Immigration and boutique litigation. In March 2010, she established MTS Law, and has concentrated on Immigration and Nationality law.
As an immigrant herself, Atty. Sanga understands the life-changing impact of a decision to move to another country. Hence, she serves her clients with the same persistence and determination that helped her rebuild her legal career in the U.S. She is ready to take on tough and challenging cases with the commitment to help her clients realize their American dream.
Atty. Sanga is a member of the State Bar of California and Integrated Bar of the Philippines. She is also a member of the American Immigration Lawyers' Association (AILA). She wrote the chapters for the Philippines in two international publications, Secured Transactions in International Practice (2003) and Security Over Immovables in Selected Jurisdictions (2005), published by Kluwer Law International under the auspices of the Center for International Legal Studies. She has also written numerous articles on immigration issues and spoken at several immigration seminars in Los Angeles and Manila, Philippines.
Atty. Kaleb Liao
Personal Injury & Civil Litigation
Atty. Kaleb Liao received his Juris Doctor degree from Glendale University College of Law while working at various law firms in Los Angeles. He has focused his practice in the area of personal injury, primarily in litigation. Kaleb also handles general civil litigation matters. He is bilingual in English and Spanish.
Kaleb graduated with Bachelors' degrees in Political Science and Sociology from the University of California at Los Angeles (UCLA). After graduation, he went on to work in the legal field where he gained valuable experience as a legal assistant/paralegal.
Having come from a multicultural family, Kaleb has an appreciation for diversity and multiculturalism. In his spare time, he enjoys reading, spending time with family, and watching and playing soccer.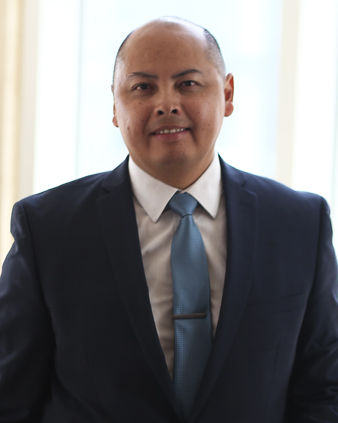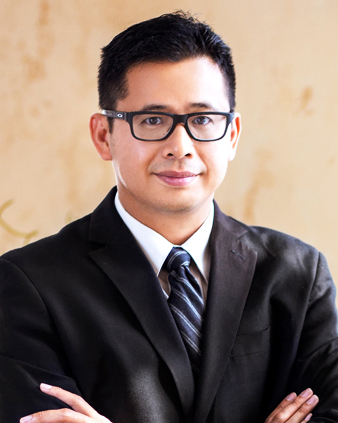 Atty. Marlon Bradley Baldomero
Bankruptcy / Family Law
Atty. Marlon Bradley Baldomero obtained his Bachelor of Laws
degree from the University of the Philippines College of Law and his undergraduate Bachelor's degree from the Ateneo de Manila University. In 2008, he obtained a Master of Laws degree from Whittier Law School with a focus on the US legal system for foreign-trained lawyers. He passed the July 2008 California Bar Exam and became licensed to practice law in California that same year.
Atty. Baldomero is a member of the Board of Directors of the Philippine American Bar Association, one of the oldest and largest associations of Filipino-American lawyers in the United States. He is also a member of the National Association of Consumer Bankruptcy Attorneys and the Central District Consumer Bankruptcy Attorneys Association. Atty. Baldomero regularly volunteers with various non-profit organizations such as the Filipino American Service Group, Inc, the Pilipino Workers Center and the Filipino Migrant Center providing pro bono legal services for the underprivileged members of the Filipino-American community.
Please also meet our Paralegals